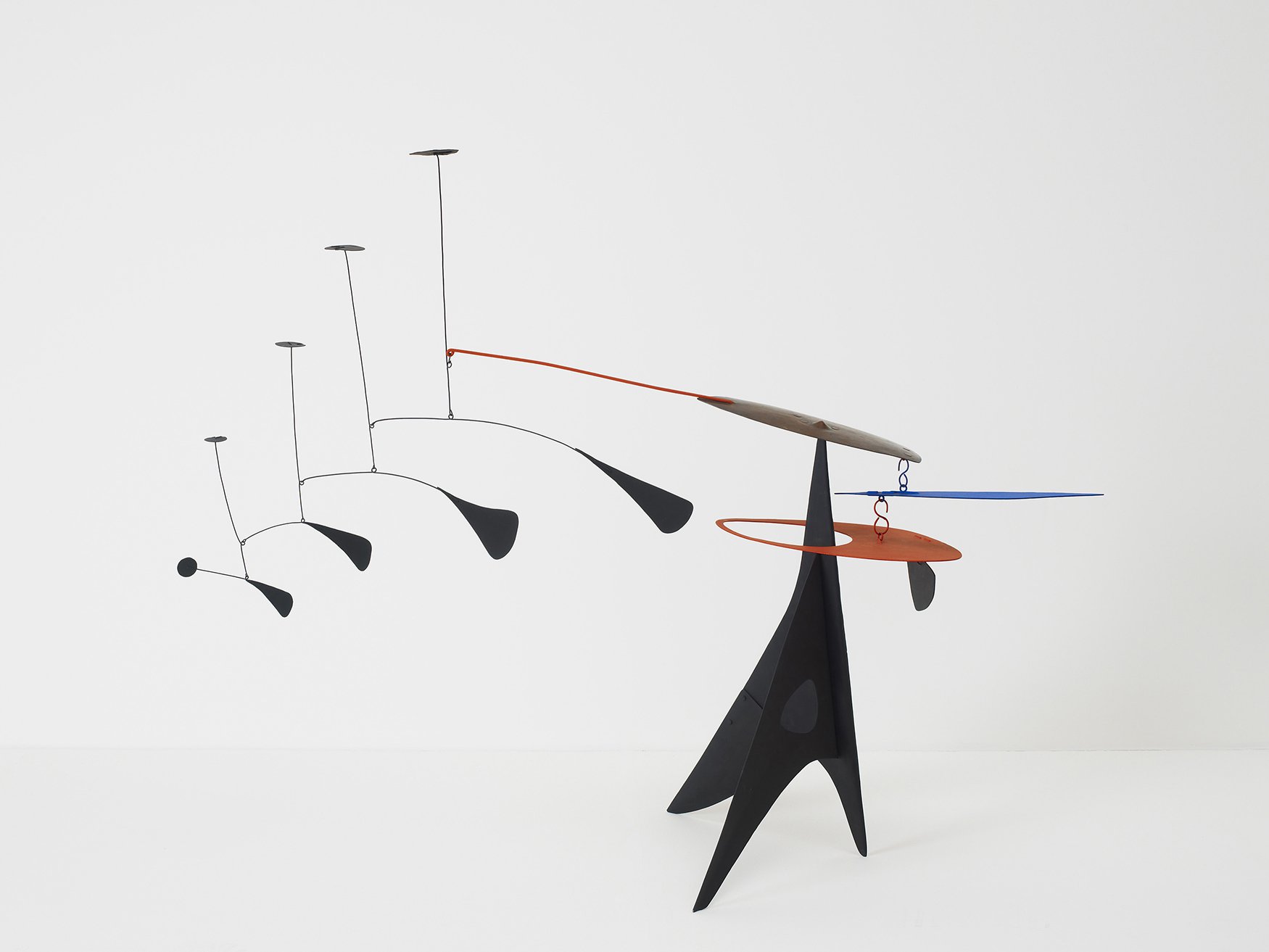 Alexander Calder, 'Blue Feather' (ca. 1948), Foto: Stephen White, courtesy of Calder Foundation, New York / Art Resource, New York. © 2021 Calder Foundation, New York / Artists Rights Society (ARS), New York / Pictoright, Amsterdam.
Discover Calder's work — and his influence on the work of 10 contemporary artists — Now at the Kunsthal
There are few artists whose work is as universally loved as American sculptor Alexander Calder. For the famous art collector power couple Irma & Norman Braman — the driving force behind the founding of Art Basel Miami — Calder's work even prompted the start of an impressive art collection. They first saw his work at the illustrious Maeght Foundation in the south of France. Irma: "We had seen art before, but this just opened up a new world to us." Last October, a gigantic sculpture by Calder was on display on the Place Vendôme in Paris, during the FIAC art fair. But you don't have to travel that far: at the moment, you can see a wonderful exhibition about his work in the Kunsthal in Rotterdam. In the surprising exhibition 'Calder Now' you will not only find work by the artist himself, but also by ten other artists who are all influenced by his work: Olafur Eliasson, Žilvinas Kempinas, Simone Leigh, Ernesto Neto, Carsten Nicolai, Roman Signer, Aki Sasamoto, Monika Sosnowska, Sarah Sze and Rirkrit Tiravanija.
Alexander Calder was born in 1898 in a small town in Pennsylvania. He came from an artistic family; his father was a sculptor and his mother was a painter. In addition to his father, his grandfather was also a renowned sculptor. Yet he was not encouraged by his parents to pursue a career in the art world. That is why he decided to study mechanical engineering. In fact, Calder had been an intuitive engineer since childhood — he made his first kinetic sculpture when he was just 11 years old — and now a theoretical layer was being added on top of his intuition. But it turned out that artistry ran in his blood and from 1923, Calder also attended a two-year art course at the Art Students League in New York. In 1926, he left for Paris, where he attended the Académie de la Grande Chaumière (art academy). That is where he became acquainted with famous avant-garde contemporaries, including Joan Miró, Marcel Duchamp, Hans Arp, Theo van Doesburg and Piet Mondrian. Miró and Mondrian in particular would have a great influence on him. After visiting Mondrian's studio in Paris in 1930, he was inspired to make his first 'mobiles'; light, open and hanging wire sculptures in which he combined movement, balance and abstract, biomorphic forms. Calder: "It was my visit to Mondrian's studio that truly made me an abstract artist. I suggested to Mondrian that perhaps it would be fun to make his rectangles oscillate. And he, with a very serious countenance, said: 'No, it is not necessary, my painting is already very fast.'" Calder then decided to do just that: to make abstract art move. Later, large, stationary 'stabiles' were added to his oeuvre. Calder: "You have to walk around a stabile or through it — a mobile dances in front of you." Incidentally, it was Duchamp who came up with the name 'mobiles' and Miró was the one who baptised the 'stabiles'. Calder also made paintings, jewelry, costumes and theater sets in his lifetime. During his time in Paris he also made a complete circus of everyday materials, which, in today's terms, would most likely fall under performance art — a medium that did not officially exist at the time.
Calder is considered to be one of the most important representatives of kinetic art and modern sculpture. Today, you can find his works in virtually all major modern and contemporary art museums. What made Calder's work so unique and innovative is that he was the first to add movement to sculpture, a medium that, until this moment in history, was mainly known as a static medium. A sculpture is no longer automatically cut out with a chisel and placed on a pedestal, but it can also float in space. Although he also made a few motor-driven works, he is best known for works that are powered by air currents. Calder always had wire and pliers in his pocket so that he could immediately "sketch" in the air when he felt the inspiration.

In the 1930s, Calder moved back to America with his wife Louisa James — the great-niece of the famous author Henry James. The 1940s and 1950s were an exceptionally productive period for the artist. In 1963 he opened another studio in France, in Indre-et-Loire. The country had impressed him deeply and throughout his career, he gave many of his works French names, regardless of where he made them.
Calder was already very successful during his lifetime: he was celebrated by the curators of the MoMA in New York and in 1943 he had his first major retrospective there. The Guggenheim and MOCA in Chicago followed in the years after that. However, during this initial period, his works were not yet sold for the astronomical sums that are now being paid for them. For instance, Solomon R. Guggenheim — of the museum of the same name — bought one of his works in 1941 for $233 (which would now be about $4,000) and the MoMA paid just $60 for their first Calder piece, bargained from $100. In comparison, in 2014 at a Christie's auction, someone paid a whopping $25.9 million for his 1957 mobile "Poisson Volant" ("Flying Fish").

Calder's work is extremely impressive in its own right, but what makes the Kunsthal exhibition so exciting is that they combine his work with the work of ten leading contemporary artists, all of whom are inspired in their own way by his oeuvre and innovations. These installations defy gravity, create optical illusions and challenge all your senses.

In the exhibition in the Kunsthal, you will also find a different kind of mobile: a polyhedron by Olafur Eliasson, which reflects light on the surrounding walls. In 2019-2020, his work was shown in a large solo exhibition at Tate Modern. The Danish artist is perhaps most famous for the artificial sun he created a few years earlier for the turbine hall of that same museum. Or the colossal ice blocks he placed in front of the museum building in 2018. With the twelve slowly melting blocks of ice from the Greenland ice sheet, he wanted to draw attention to global warming, in a really tangible way.

Perhaps the most striking work in the exhibition is the monumental installation by Brazilian artist Ernesto Neto. His installation "It Happens When the Body is Anatomy of Time" (2000) consists of fragrant cloves, cumin and turmeric, in large lycra bags that are positioned in diagonal shapes in the space. Like Calder, he thinks outside the conventional structures of what sculpture can be. His large, often semi-transparent sculptures have biomorphic forms, inspired by nature and living organisms — just like the work of Calder. The soft, fragrant tubes almost invite the viewer to touch them and although the objects are stationary, they do seem to suggest movement somehow.

American artist Simone Leigh, who will represent the US at next year's Venice Biennale, is one of today's most celebrated sculptors. She has won several prestigious awards. Leigh uses the medium of sculpture as a way to research Black history and the historical commodification of the Black body. Throughout history, exaggerated and stereotypical representations of Black people have been used by white people, for example in ceramic utensils. Leigh plays with this notion, by occasionally providing the skirts of her figures with a teacup-like handle. In her mysterious sculptures she focuses on Black women. Leigh: "They have been left out of the archive and left out of history." The sculptor opts for unusual materials and often makes round and conical shapes. For example, she molds watermelons — a fruit that symbolises a deeply racist stereotype in the United States. The shape also hints at other negative associations around the curves of the black body.

Sarah Sze uses her sculptures to say something about consumer culture and the role that technology and information play in our lives. Like Calder, she makes both mobiles and stabiles. The American artist often chooses cheap, everyday materials for her installations. In terms of form, she likes to refer to DNA structures and the work of various abstract artists from the early twentieth century — including Calder and artists from constructivism and De Stijl. In 2003, she was awarded the prestigious McArthur Fellowship (better known as the "Genius Grant") and she also represented her native country at the Venice Biennale.

In the exhibition, the Lithuanian artist Žilvinas Kempinas, who lives in New York, shows one of his poetic and kinetic mobile sculptures, for which he uses the unwound magnetic tape from video tapes. Thanks to the addition of a fan, these ribbons seem to come to life. Kempinas: "I am attracted to things that can transcend their own banality and materiality to become something else — something more." Kempinas has previously shown his work at the Venice Biennale and in a major solo exhibition at the MoMA in New York. In 2007, he was awarded the Calder Prize.
The Japanese artist Aki Sasamoto created a new performance work especially for the exhibition in the Kunsthal. She currently holds a residency at Atelier Calder in Saché in France, in the artist's former studio and residence. Sasamoto, and the ten other artists on display, are all indebted to Alexander Calder in a way. Not only in terms of form, but also in the way he looked at the possibilities of sculpture, in a visionary and innovative way.
Het werk van CaldeThe work of Calder and ten contemporary artists can be seen in the Kunsthal in Rotterdam until 29 May 2022. Many of these sculptures and installations will have their Dutch premiere in this exhibition.